52 Soda Bay Road, Lakeport
(Right Behind Lakeport Cinema 5)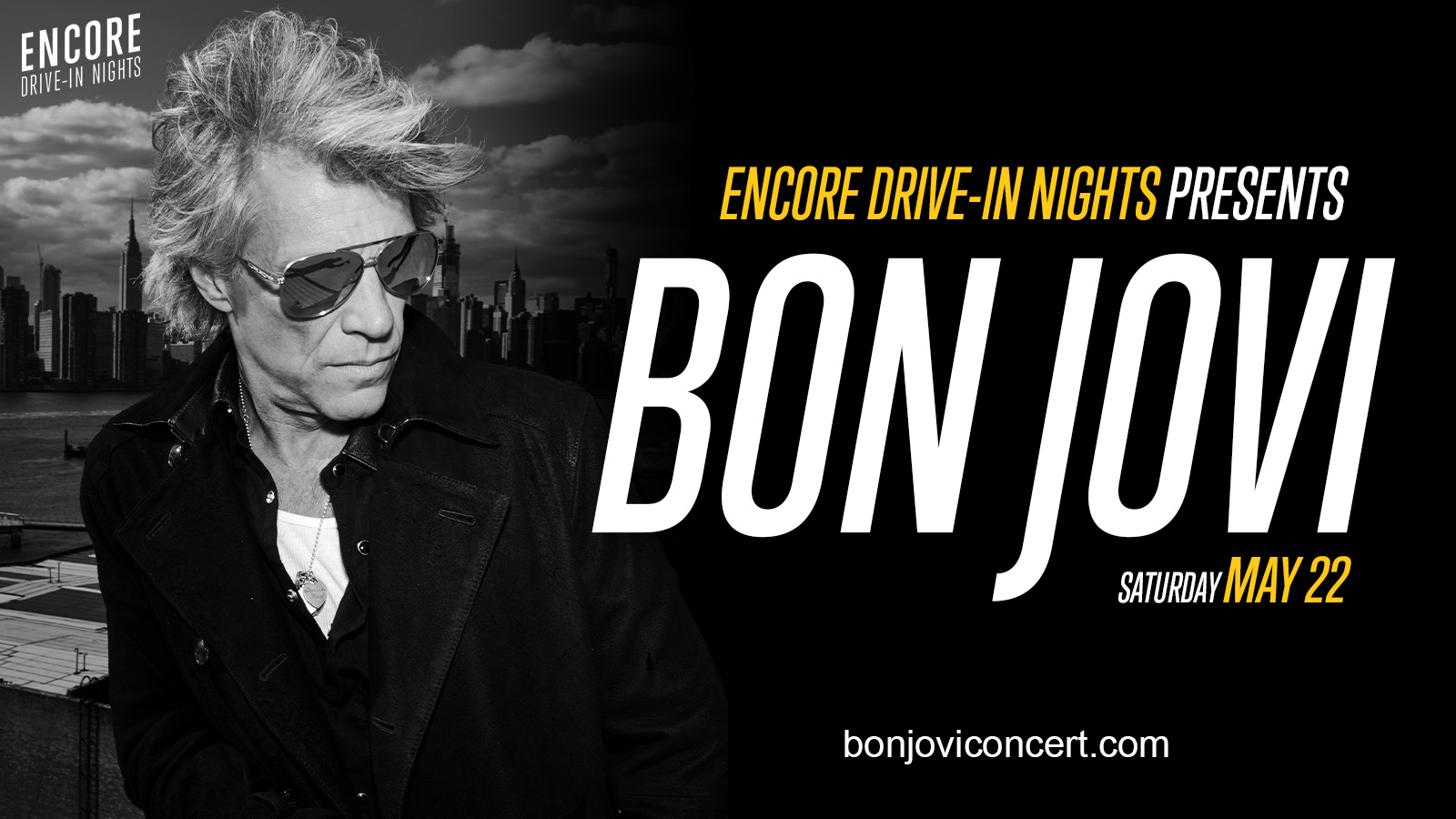 Bon Jovi - An Encore Drive-In Nights Concert
Saturday May 22 at 9:00 pm
VIP Fast Pass Tickets

Fast Pass Access: VIP Fast Pass ticketholders will skip the general admission line, entering the show through a specially marked lane that remains open throughout the entire evening.

This special entry will remain open throughout the entire night or until all VIP ticket holders have been admitted.
VIP lane will be open 60 minutes before the general admission gate times.

Early Entry: VIP Fast Pass ticketholders may arrive up to 60 minutes before gates open for priority parking.
Priority Parking: VIP Fast Pass ticket guarantees best parking spot available based on vehicle type. To guarantee priority parking, guests must arrive within 60 minutes of general admission gates opening.
Limited Edition Concert Gear: VIP Fast Pass ticket includes limited edition Encore Drive-In Nights featuring Kane Brown lanyard and laminate, up to 6 per car.
Information about our concert events

Tickets must be purchased from the link(s) below.
Prices and other ticketing policies are set by the event promoter, not by Lakeport Auto Movies.
Outside food and Beverages are not permitted unless you have purchased a $20 Outside Food Permit. Food permits can be purchased in advance by clicking here. Or they can be purchased onsite the night of the show from theatre staff or from our online concession store. Please be prepared to show confirmation of purchase to theatre staff the night of the show.
Event Rules

Masks are required as listed below. This is a requirement of the State, Lake County, and our insurance companies. It is not a political statement. Please choose not to attend if you wish to protest.
Do not leave extra vehicles in the Cinema parking lot as we will be using it to queue guests waiting for the midnight show. Any vehicles parked in the Cinema parking lot without our express authorization are subject to tow.
Each ticket admits one standard passenger car or truck. (RVs and limousines not permitted.)
All passengers must have a seatbelt. No more than six people per vehicle.
Due to social distancing protocols, guests will be expected to remain with their vehicle and not socialize with people in other vehicles. Within your vehicle includes the bed of your pickup or the back of an SUV or van.
Due to social distancing protocols we will not be able to accomodate tailgating activities - either in the parking lot before entering, or once parked in the drive-in lot.
No weapons, legal or illegal drugs, or alcohol allowed.
Parking is based on a first-come-first-serve basis. The show is expected to be full. Please arrive early. We reserve the right to decide where you park.
Gate Opening Time(s) - Times may be adjusted the day of the show as needed.

8:00 pm for the 9:00 pm show.

Theater staff reserves the right to move cars as needed.
Guests must follow theater speed limits, cones and marked lanes.
Advertised start time is approximate. Show will begin as soon as it is dark enough after sundown.
Sound will be broadcast through FM radio at 89.7.

Please bring a portable battery operated radio to avoid draining your car battery.
Drive-in staff will be able to provide jump starts if necessary.
The drive-in has a small number of portable radios available for rent. The cost is $4 plus a $10 deposit

Remove and dispose of your own trash.
Headlights and running lights must be turned off during the show.
We have a designated smoking area in the back right side of the lot, near the green shipping container. Please go here to smoke, or park in this area if you want to smoke in your vehicle
Guests must adhere to all theater rules and policies as well as state and local laws.
Guests must adhere to current CDC and state/local guidelines regarding social distancing as it pertains to the following in order to prevent the spread of COVID-19. Failure to do so may result in ejection of you and everyone in your vehicle, arrest, and no refund.

Vehicle spacing
Entering/exiting your vehicle

Masks are required when visiting the snack bar or restrooms, or moving around outside of your vehicle space.
Add our concession order page to your favorites. Please do not order until the day of the show. Wait for a text message that your order is ready for pick-up. Initially quoted ready times are only estimates.
Children should not be left unattended.
Once a vehicle or person leaves the theater, no re-entry will be permitted.
Shows will go on rain or shine.
No refunds.
In the event of severe weather, you will be contacted regarding a reschedule or a potential refund.
We appreciate your cooperaton in following our rules and social distancing protocols. This will be key to whether we can present future concert events.